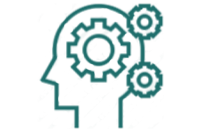 Cognitive Assessments
Program Details
(
Back to Programs
)
The goal of the Cognitive Assessment Program is to gather the necessary information and relevant cognitive test scores to aid the physician in a potential diagnosis of Dementia. Patients are referred to the program by their family physician or other healthcare provider to assess patients that are having memory concerns.
The program is open to patients that are medically stable and over the age of 65. The patient meets with a Registered Nurse for a screening visit and a testing visit during which the patient completes several universal screening tools for cognitive decline.
The patient may also see some or all of the healthcare team. Upon completion of the program, the family physician will be given the collected information, test results and recommendations. The family physician will use this report to formulate a diagnosis.
Our program also provides access to appropriate supports and resources for patients and their families in the community.